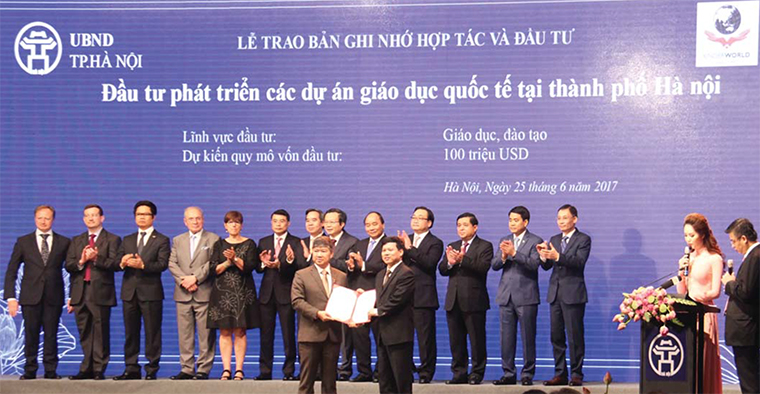 On June 25, 2017 the Hanoi People's Committee hosted a major investment promotion conference themed "Hanoi 2017: Investment Co-operation and Development". At the event, top national leaders, authorised government agencies, diplomatic missions, international organisations, and foreign and local firms all came together to foster business and investment opportunities in the capital city.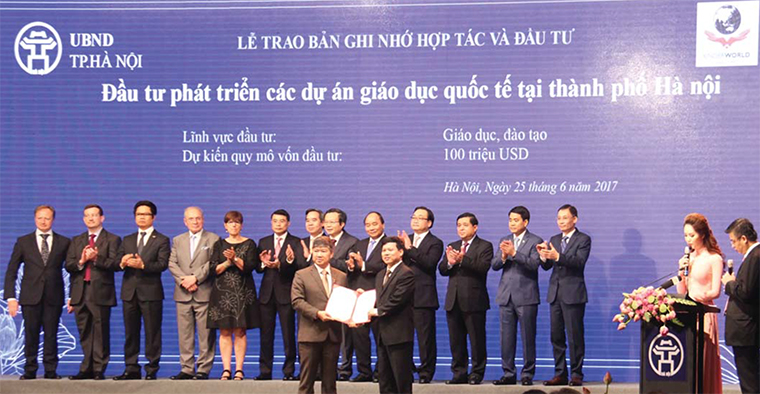 The MoU ceremony between the Hanoi People's Committee and KinderWorld Education Group
On the occasion, a memorandum of understanding (MoU) was signed between the Hanoi People's Committee and KinderWorld Education Group, which is the largest system of international schools in Vietnam, to promote international educational projects.
The MoU was to broaden KinderWorld's investments in Hanoi with the development of three flagship projects – the Singapore International Super School, the Pegasus Smart Uni-City, and the Outward Bound Vietnam (OBV) and Eco-Tourism Project – at an estimated investment of $100 million. These investments underline the company's core missions of improving general education, vocational skills, life skills, and English competency training for officers, teachers, and students in local schools around the city.
On the same day, the chairman of KinderWorld Education Group, Ricky Tan, was honoured with the "For the Cause of the Capital City Development" medal by the committee for his contributions to the development of the city over the years through a range of charitable activities and scholarships.
Singapore's KinderWorld Education Group dropped anchor in Vietnam in 2000. The first pre-school in Ho Chi Minh City was opened in April 2000 by Lee Hsien Loong, Former Deputy Prime Minister, who is currently Singapore's prime minister.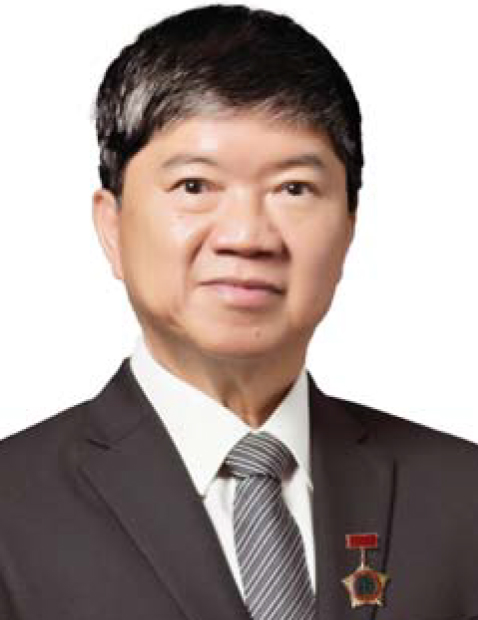 Ricky Tan
Chairman of KinderWorld
Following the reforms of the Enterprise Law, KinderWorld intensified the company's footprint in Vietnam. The group currently operates 17 campuses, under the brand names of KinderWorld International Kindergarten (KIK), Singapore International School (SIS), Singapore-Vietnam International School (SVIS), and Pegasus International College (PIC) in Vietnam; UniWorld International School in Malaysia; and Singapore School (Amata) in Thailand.
K-12 Education
KIK provides international and integrated pre-school educational programmes for foreign and Vietnamese children aged 18 months to six years. The play-based and inquiry-learning programme is designed to provide a strong foundation in the English language and mathematics to develop children's academic and social skills.
SIS offers an international and integrated educational programme for foreign and Vietnamese students. The international programme is a combination of the Singapore curriculum, set out by the Ministry of Education in Singapore and the Cambridge curricular from the UK.
SIS is committed to continuously ensuring the quality of its educational programmes through international quality assurance and accreditation benchmark standards. Primary students take the iPSLE (Singapore international Primary School Examination) and secondary students take the Cambridge International General Certificate of Secondary Education (IGCSE) examinations at the end of the primary and secondary school years.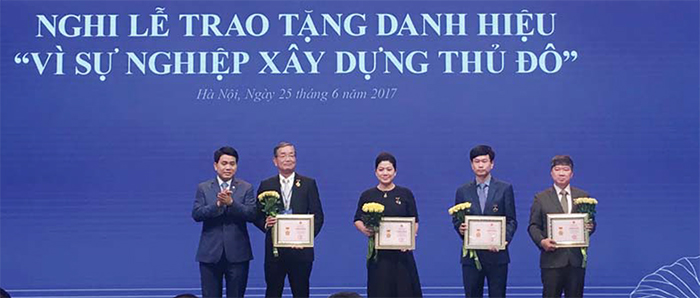 Ricky Tan (on right) with the "For the Cause of the Capital City Development" medal
Students may choose to take the Cambridge International A Level, which prepares students for university education across the world, or the Global Assessment Certificate University Foundation Programme (GAC), which provides access to universities worldwide. The GAC includes preparation for the American College Test (ACT).
SIS also offers an integrated programme designed to meet the needs of Vietnamese students from year 1 through year 9. It provides them with an opportunity to study not only the Vietnam Ministry of Education and Training-mandated curriculum, but also some aspects of the international curriculum.
SIS schools received accreditation from the Western Association of Schools and Colleges (WASC), one of six regional accrediting associations in the US, after a rigorous accreditation process which commenced in 2012.
The endorsement gives the schools a strategic edge by recognising that SIS' educational programmes meet international standards.
Higher Education
As for higher education, PIC was established to provide quality education beyond high school. It offers Vietnamese, ASEAN, and international pathways and qualifications in Hospitality, Tourism, Culinary Arts, Business and Commerce, and English language programmes.
PIC offers three-tiered qualifications which are aligned to national requirements – Vietnam Tourism Occupational Standards (VTOS), the Malaysian Qualifications Framework (MQF), the Common ASEAN Tourism Curriculum (CATC), and the transnational Australia Qualification Framework (AQF) – which articulates into undergraduate programmes.
Through agreements between PIC and Edinburgh Napier University in the UK, TAFE New South Wales in Australia, and Elmhurst College in the US, students who complete the two-year advanced diploma at PIC can continue their studies in bachelor's degree programmes at these partner institutions. To complete KinderWorld's kindergarten-to-university educational pathway, the group aims to set up Pegasus International University in Vietnam in the near future.
Pegasus Smart Uni-Cities
KinderWorld is working to establish a Pegasus Smart UniCity in Hoa Quy New Urban Area in the south-central city of Danang, part of Danang's vision to become the first smart city in Vietnam by 2025. Pegasus Smart Uni-City will feature a media and entertainment and ICT training academy, an ICT incubator, and a centre of excellence, incorporating collaborative coworking spaces.
This will be a destination for enterprising and innovative individuals and startup enterprises to come together to create breakthrough products. Pegasus will be working with global firms Autodesk and Unity Technologies on the incorporation of their industry certificates into Pegasus' ICT programmes. Autodesk is the provider of more than 160 softwares in architecture, engineering, construction, media, and entertainment. Unity is a multi-platform game engine company, with over 20 billion installations to its credit.
Pegasus Smart Uni-City's pilot project, Pegasus Xperience Labs (PXLabs), scheduled to open end 2017 and located within PIC Danang, is a centre of excellence that strives in developing high standards of conduct in leadership, learning, training, support, and innovation.
PXLabs complements the School of ICT of PIC, and encourages a collaborative environment that enables students, professionals, enterprises, and entrepreneurs to generate innovative and creative ideas.
Outward Bound Vietnam
As part of KinderWorld's complete approach to education, Outward Bound Vietnam (OBV) is an initiative to inspire and appreciate social, cultural, and community differences. OBV, to be developed in Ha Long, Danang, Binh Dinh, and Quang Tri, will introduce a unique programme which fosters interpersonal, leadership, and survival skills, and instils social and environmental responsibility through unique outdoor activities and adventure-based experiential learning.
KinderWorld was granted a land use right certificate for Pegasus Mixed Eco-tourism Development in the southcentral coastal province of Binh Dinh in February 2016 by the provincial People's Committee. The 60.3 hectare project, located in Quy Nhon's Nhon Hoi Economic Zone, will be developed in three phases. Upon completion, the project will be an inclusive development, which integrates outdoor education, eco-tourism, and wellness to provide lifestyle services for learners of all ages, families, and business organisations.
OBV has formed a collaborative partnership with Outward Bound Singapore to share knowledge, expertise, and exchange of students and participants between the two organisations. Outward Bound Singapore is looking at using the first OBV site in Binh Dinh as its satellite campus. All KinderWorld employees will participate in OBV's five-day experiential learning programme in Binh Dinh province.
(www.vir.com.vn)